At PAOS we have long believed in the necessity of a "meta-design strategy" that, in touching off the aesthetic sensibilities of the audience, can be used to create a compelling operating environment in a mature society of diverse values.
A meta-design strategy does not simply involve the creation of a visual identity or perfunctory brand strategy; instead it means achieving a balance along a 6-pronged brand strategy that includes: 1) design of the corporate mission and direction; 2) design of expression and representation; 3) design of new businesses and business domains; 4) design of philosophy and raison d'être; 5) design of public and social value; 6) design of cultural and environmental value.
Walter Gropius, founder of the Bauhaus movement, once said that: Design is the common denominator of all fields. The establishment of sensuousness, comfort, security and individuality is the basic tenet of design and it is this that enhances the meaning and value of all manmade objects. Ettore Sottosass, a renowned Italian designer, has said that: Design is akin to giving someone flowers, and, as you give thought to the emotions of the recipient when selecting the flowers to present to them, so it is imperative that design be thoroughly imbued with the spirit of the service and hospitality industries, that it incorporate the notion of audience.
For contemporary companies caught up in the march towards a mature, information-driven society, the industrialized notion of business as a top-down continuum has become anachronistic, and the ability to embrace the notion of audience, to adopt the customer's perspectives and values, is now staple to the potency and effectiveness of design.
The "meta-design" concept and strategy upheld by PAOS for more than thirty years grows ever more significant over time as a real and substantive issue in the marketing and management of companies.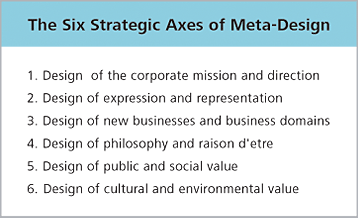 The tendency to see design in simplistic terms as a realm of color and shape does is a cause of some concern. It goes without saying that an outstanding image is critical in the final stages of the design process, but the key to ensuring that this functions as the optimal solution lies in formulating a strategy to serve as endpoint. In short, the "intangible design" that gives precise direction and power to the "tangible design" is crucial, and PAOS' five strategic axes clearly articulate this belief.